See on Scoop.it – Best Practices Marketing Hub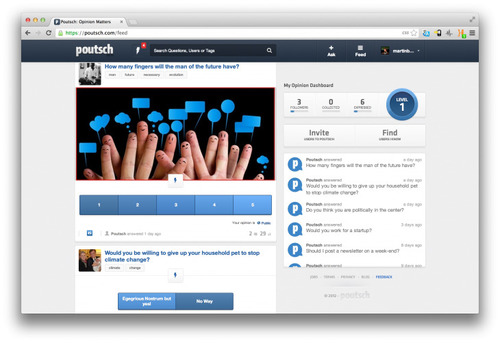 Excerpted from article on The Next Web:
"Poutsch is an interesting new player in the game that blends traditional polling with a Quora-style approach to collecting users' questions and answers.
As with any other polling service, you set a question, choose some multiple choice answers and publish. Then, other users can vote to determine the most popular answer. However, Poutsch goes further by letting you search the site for questions asked in the past, users or for tags that users have given to their polls.
The result really is, essentially 'Quora for polls'. Polls are publicly archived so you can explore them, and once you've answered any question, you can view the stats such as the geographic spread and gender split of respondents, plus details of how many people changed their mind during the life of the poll…"
Read full article: http://thenextweb.com/apps/2013/02/08/poutsch-is-quora-for-polls/
Check out it: https://poutsch.com
Casey Strachan's insight:
I love new polling techniques and services: Poutsch!
See on thenextweb.com